Poverty in BC and What You Can Do About It
November 11, 2021 Contributions By: Akash Dosanjh, Amarjot Sangha, Chris Motiu, Kai Wu, Quynh Nguyen and Vanessa Castaneda
What Is The UN's "No Poverty" Goal?
"No Poverty" is the first United Nations Sustainable Development Goal, which aims to "Eradicate poverty everywhere, in all its forms".
To ensure the goal has been achieved, the UN will aim to (1) eliminate extreme poverty (people living on less than $1.25 a day), (2) reduce all other forms of poverty by at least 50%, (3) implement national social protection systems and measures, (4) build resilience of the poor and vulnerable, (5) mobilize resources and (6) create policies and reforms worldwide to end poverty once and for all.
So why this blog?
Although we live in one of the most developed and resource-rich countries globally, Canada and British Columbia have to deal with alarming poverty levels here at home. Thus, the purpose of this blog is to raise awareness about poverty in BC. If poverty is eliminated, we believe that it will contribute to building better communities by reducing social inequality and fostering economic growth. Poverty is a human rights issue that is prominent in BC. Women, gender diverse people, Indigenous people, single seniors and adults, people with disabilities and people of colour are more likely to live in poverty (BC Human Rights).
Global Poverty
October 17, 2021, marked the International Day for the Eradication of Poverty, yet the world doesn't have anything to celebrate. For the first time in 20 years, extreme global poverty increased to almost 125 million people. Based on this gloom data, it is now projected that the world will miss the 2030 target to eradicate poverty when global poverty persists at about 7 percent or 600 million people.
We live in a developed country, and we may think that we are not affected by poverty. Sadly, that is not the case, as poverty affects us almost as much as most developing countries. Although the rates have been declining by almost 4% during the last 5 years, we are still far from eliminating poverty in Canada, as shown in the following graph (Government of Canada).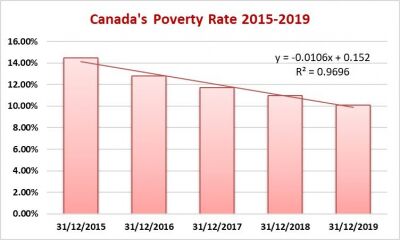 The following chart identifies poverty in Canada among various demographic groups. The most affected are women, single individuals, and persons with disabilities. Children are the fourth biggest group affected by poverty, followed closely by new immigrants and Indigenous people living off reserves (Government of Canada).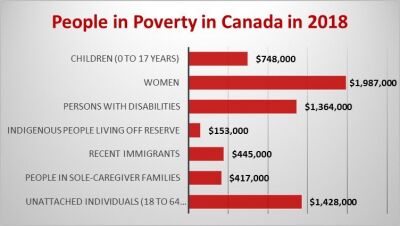 What is the Federal Government Doing About Poverty In Canada?
In August 2018, the Canadian Government released Opportunity for All – Canada's first Poverty Reduction Strategy. It is based on three main ideas:
Dignity – Lifting everyone out of poverty by providing basic needs such as food, shelter and health care.
Opportunity and Inclusion – Reducing poverty by providing equal opportunities and participation in society to all Canadians.
Resilience and Security – Reducing poverty by supporting income security and resilience and helping the middle class by protecting them from falling into poverty.
Deploying this program is in alignment with the UN Sustainable Development Goals and aligns with its targets to eliminate poverty in Canada (Government of Canada).
The History-BC and Poverty
BC has always had its fair share of poverty levels, especially in the Vancouver region. Following the confederation, rapid increases in population in the early 1900s were not kept up with the economic growth in Vancouver. Vancouver saw an increase of 220,000 people from 1901-1929. In the last half of the 19th century, a new type of poverty was introduced, poverty in which was derivative not from typical seasonal job shortages but from a lack of wage-paid jobs which stemmed from business closures and layoffs due to economic turns. In 1944, the Federal Government introduced a social welfare program known as the Family Wellness program to diminish poverty levels in large Canadian cities. Similarly, today many actions to reduce poverty are being implemented by organizations and governments. However, today, poverty is still rampant in BC and the Lower Mainland (Read more here).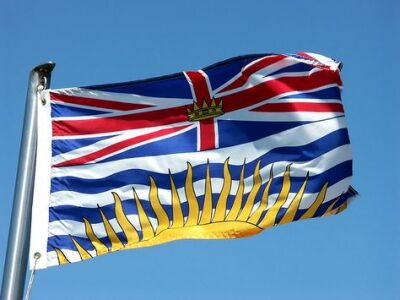 Poverty in BC Now

A report published by the Canadian Broadcasting Corporation (CBC, 2020), nearly one in five children in BC lives in extreme poverty, whereas that number is double on the First Nations reserves. Based on the same report, poverty affects more severely.
"…children of immigrants and refugees, children from female lone-parent families, children in racialized families, those affected by disabilities, and youth transitioning out of government care are at greater risk of living in poverty."
How much does poverty cost in BC?
Contrary to popular belief, poverty does not just affect those who can't afford necessities; it negatively affects any society.
According to Canada Without Poverty (a federally incorporated, non-partisan, not-for-profit and charitable organization dedicated to eliminating poverty in Canada), high poverty rates directly influence the [economy], healthcare, and criminal justice systems. It affects health as lack of food, shelter, and access to medical care decreases productivity, savings, and overall quality of life. Poverty can double or triple the chances of developing diabetes and other health complications.
The bottom line is that poverty in BC represents a direct cost to the Government alone of $2.2 to $2.3 billion annually, or close to 6 percent of the provincial budget. The cost to society overall is considerably higher — $8.1 to $9.2 billion, or between 4.1 percent and 4.7 percent of BC's GDP (Gross Domestic Product, or the size of our economy). That is as much as $2,100 for every man, woman and child in BC, or $8,400 for a family of four, every year. In contrast, the estimated cost of a comprehensive poverty reduction plan in BC is $3 to $4 billion per year.
Poverty also leads to higher crime rates and increased incarcerations. Higher incarnations rates mean higher costs for the Government and taxpayers. Although eliminating the poverty gap won't be cheap, continuing to ignore this problem will, on average, continue to cost British Columbia between $8.1 to $9.2 billion every year[See additional info].
What Is the BC Government Doing About Poverty?
In response to poverty, the BC Government has launched a new strategy titled "Together BC," which addresses house affordability issues, minimum wage, youth programs, accessible education and training, and investing in social inclusion. This ambitious program aims to reduce overall poverty in BC by 25% and child poverty by 50% before 2024.
Based on TogetherBC's 2020 annual report, poverty levels have decreased substantially from previous years, as shown in the following chart. Further, the BC government has introduced the Poverty Reduction Strategy Act founded on four guiding principles: affordability, opportunity, reconciliation and social inclusion.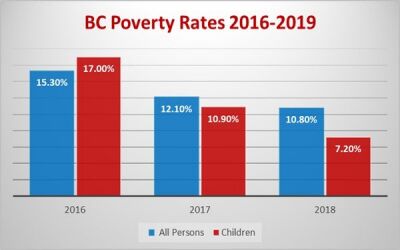 The Impacts of COVID-19 on Poverty Reduction
Indigenous communities lacking economic and social support before the pandemic suffered even more after COVID-19 hit their communities. Lack of proper healthcare, sanitation, and infrastructure impeded these communities from getting help.
Employment was heavily affected, with thousands losing their jobs and becoming unemployed.
Women were increasingly exposed to gender-based violence, and abuses against women more than doubled during the pandemic.
Despite significant progress made in previous years, poverty inched up in 2020, primarily due to the loss of jobs and increased costs of goods.
Racism and discrimination increased, especially hate speech and violence against Asian populations (TogetherBC, 2020 Annual Report).
What can YOU do to eliminate poverty?
You might be asking yourself, "what can I do to make a difference?". Here are three simple ways you help to make a difference:
Learn About the UNSDGs and the "Eliminate Poverty Goal"
Bring awareness to the poverty issue in British Columbia within your social circle by posting on social media and talking to family and friends about it
Volunteer at your local food bank
If you can, make donations to non-profit organizations. The Covenant House Vancouver is a great place to donate food, money, and clothing for the homeless youth
Speak out against any injustice you witness
Contact the political representatives in your area and what do they do to alleviate poverty
Speak to your instructors, if you are a student, and suggest incorporating UNSDG projects in your course syllabus
Email us with any questions, concerns or help you may need at chris@davie-rmt.com
References:
Canada's poverty reduction strategy – an update. (2019). Retrieved from https://www.canada.ca/content/dam/esdc-edsc/documents/programs/results/2050-Layout-EN.pdf.
CBC. 2020, 1 in 5 BC children living in poverty, Retrieved on October 2021, from https://www.cbc.ca/news/canada/british-columbia/1-in-5-b-c-children-living-in-poverty-report-1.5834429
How Expensive is Poverty in Canada? Canada Without Poverty. (2020, Nov 23). Retrieved Nov 1, 2021, from https://cwp-csp.ca/poverty/the-cost-of-poverty/.
TogetherBC, British Columbia's first-ever poverty reduction strategy, Retrieved On Nov 11, 2021, from https://www2.gov.bc.ca/gov/content/governments/about-the-bc-government/poverty-reduction-strategy
UNGC Poverty Footprint Final (type). (2015, September). Retrieved from https://d306pr3pise04h.cloudfront.net/docs/issues_doc/human_rights/PovertyFootprint.pdf.
United Nations Sustainable Development. (2021). Goal of the Month Editorial. Retrieved on Oct 24, 2021, from https://sdgs.un.org/goals
United Nations Sustainable Development. (n.d.) Communications materials. Retrieved on Oct 24, 2021, from https://www.un.org/sustainabledevelopment/news/communications-material/
United Nations Sustainable Development. (n.d.) The 17 Goals. Retrieved on Oct 24, 2021, from https://sdgs.un.org/goals